With more than 15 years of experience, Oncam is a global, independent manufacturer specializing in single-sensor, 360-degree fisheye cameras and video-surveillance technologies.
Oncam cameras offer outstanding, 360-degree situational awareness to meet a wide range of surveillance and security needs. They are designed to work individually or can be combined to capture an area without blind spots—creating multiple use cases that are not possible with traditional, narrow-field-of-view cameras.
The flexible C-Series is Oncam's latest family of surveillance cameras and includes 8 and 12MP indoor and outdoor cameras, in addition to industry-leading frame rates and innovative technologies. They're engineered and designed by Oncam and powered by Qualcomm® Vision Intelligence Platform.
If you need 360-degree panoramic coverage of larger areas with fewer cameras, and crisp views of highly important and sensitive areas, use the 12MP C-12 Indoor or Outdoor Camera anytime, anywhere. And look to the 8MP C-08 Indoor or Outdoor Plus for detailed coverage of smaller areas.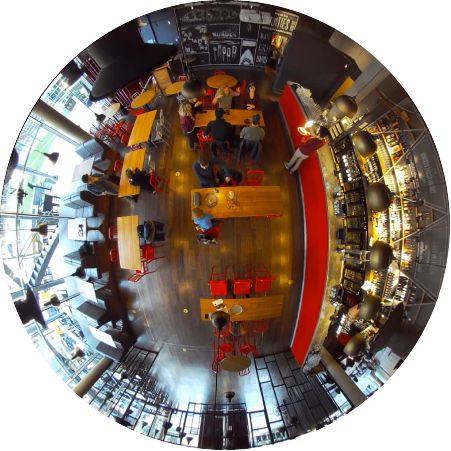 360-degree and dewarping
Oncam's 360-degree fisheye cameras are ideal for total situational awareness, offering you a solution for a variety of uses. Plus, Oncam's dewarping technology converts the fisheye image into having the look and feel of a more traditional video stream—allowing you to move around the image and look at it in a more traditional way.

Multi-Mode
Wouldn't it be great to watch only what matters in a live scene with crisp, natural-looking views and still record in 360-degrees? With Oncam's enhanced, Multi-Mode technology, you no longer have to choose between native fisheye and dewarped views. With Multi-Mode, you can maintain all the usual benefits of a 360-degree view and now create 180-degree Panoramic+ views, two- and three-way corridor views, and VCams—depending on your camera-mount orientation.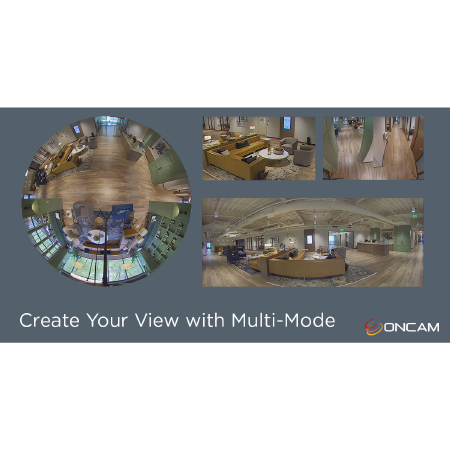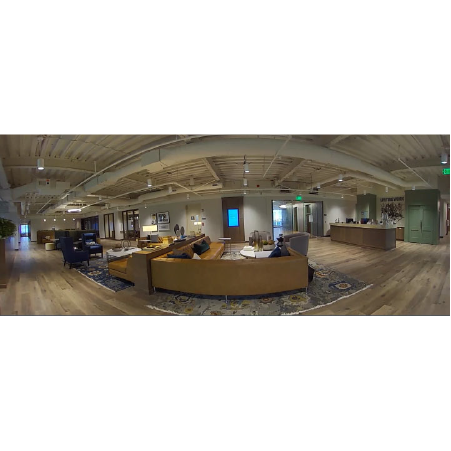 180-degree panoramic
Sometimes only a panoramic view will do. Oncam cameras are designed for complete flexibility and, with Oncam's Panoramic+ technology, can be easily wall mounted. Using Oncam's Angle Compensation and Scene Offset Technology, you can create a true 180-degree image that looks completely natural.
Technologies
Oncam has a range of technologies to increase the flexibility and possibilities of your cameras. The C-Series cameras achieve complete situational awareness at up to 60 fps. They leverage state-of-the-art technologies including StreamLite+ Compression, TrueDetail HDR, and Advanced Light Management to deliver exceptional image quality in challenging light conditions while lowering bandwidth and storage demands.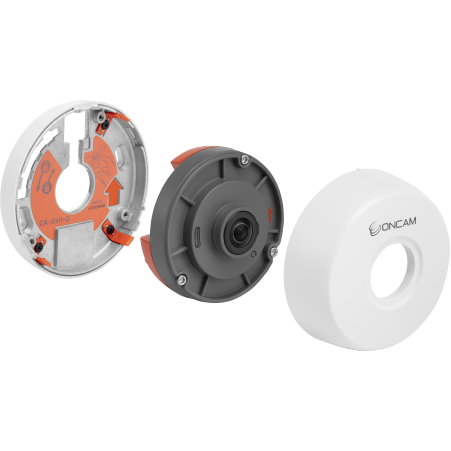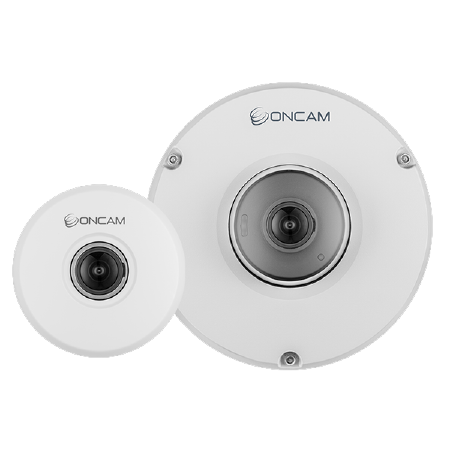 Security
Oncam keeps the importance of physical and cybersecurity at the forefront during the inception, design, development, testing, and maintenance phases of its products and services—to minimize the number of potential areas that could be exploited in an attack. Supported by guidance on best practices, a robust and efficient response to security threats, and ongoing threat monitoring, Oncam is committed to supporting your security needs and is fully compliant with the US National Defense Authorization Act (NDAA).