360you Wellness Program
At ScanSource, we truly value our employees! We believe it's important that they not only enjoy coming to work but that they live the most comfortable life outside of the office, as well. Because of this, we have implemented a well-being program, called 360you, to help create awareness about the seven dimensions of well-being.
These seven dimensions are: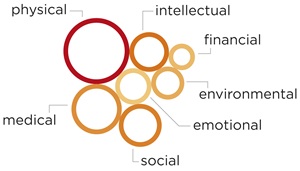 Our hope is to provide employees with tips and support on how to balance these seven dimensions of well-being and lead a healthy, happy, productive life – inside and outside of work.