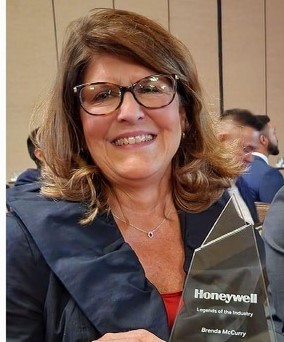 ScanSource's Brenda McCurry Recognized as a Honeywell 2021 Legend of the Industry
ScanSource, Inc.'s Brenda McCurry, Senior Vice President, Point of Sale and Payments, was recently named a Honeywell 2021 Legend of the Industry. The award recognizes longstanding global leaders in the automatic identification and data capture industry.
"Brenda continues to be a force in our industry, and a champion of the channel. Her insights on supply chain optimization to new trends in verticals and opportunities to evolve business models with digitization provide great value," said Andy D'Amelio, VP & General Manager US and Canada, Honeywell. "Brenda's wealth of knowledge continues to enlighten, pushing partners such as Honeywell to be stronger, and always with the health of the channel at the forefront."
"Brenda is an influential member of the industry with a proven track record of serving as a champion for our partners," said Tony Sorrentino, President, North American Hardware and Services, ScanSource. "We're proud to see her recognized for her passion, leadership and dedication to our partners."
A veteran of the IT distribution industry, McCurry joined ScanSource in 1993 as Marketing Manager. Since then, she has held several leadership positions throughout the company, working in sales and merchandising capacities across the POS and barcode business segment, as well as communications.
The 2021 Legend of the Industry recipients were recently recognized at the annual Honeywell Productivity and Safety Solutions Partner Conference in Phoenix, Arizona.
---