In today's remote work environment, Microsoft Teams is a critical tool that can help improve communication, collaboration, and productivity. ScanSource's MTR Playbook provides SMBs with a comprehensive guide to leveraging the full potential of Teams. You'll learn best practices for setup, deployment, and adoption, as well as how to use Teams to streamline workflows and improve communication with employees, customers, and partners. This eBook also covers key features such as meetings, chat, and collaboration, and provides tips for integrating Teams with other Microsoft and third-party apps. Download the Microsoft Teams Playbook from ScanSource to optimize your Teams experience and drive greater business success.
82% of businesses say
they expect to have more flexible work-from-home policies post-pandemic
80% collaboration time:
employees spend 80% of their time collaborating
273% ROI:
businesses noted a three-year return on investment when switching to Microsoft Teams Rooms*
*The Total Economic Impact ™ of Microsoft Teams Devices, a commissioned study conducted by Forrester Consulting, January 2021.
Working together.
Succeeding together.
As people return to offices, many will continue working from home. In this hybrid workplace, how do we ensure everyone can fully participate and feel included in meetings? With Microsoft Teams Rooms and ScanSource, you can turn any room into a collaboration space where everyone has a seat at the table and feels engaged, regardless of where they sit. Teams Rooms are thoughtfully designed to be easy to use, inclusive, flexible, secure, and managed.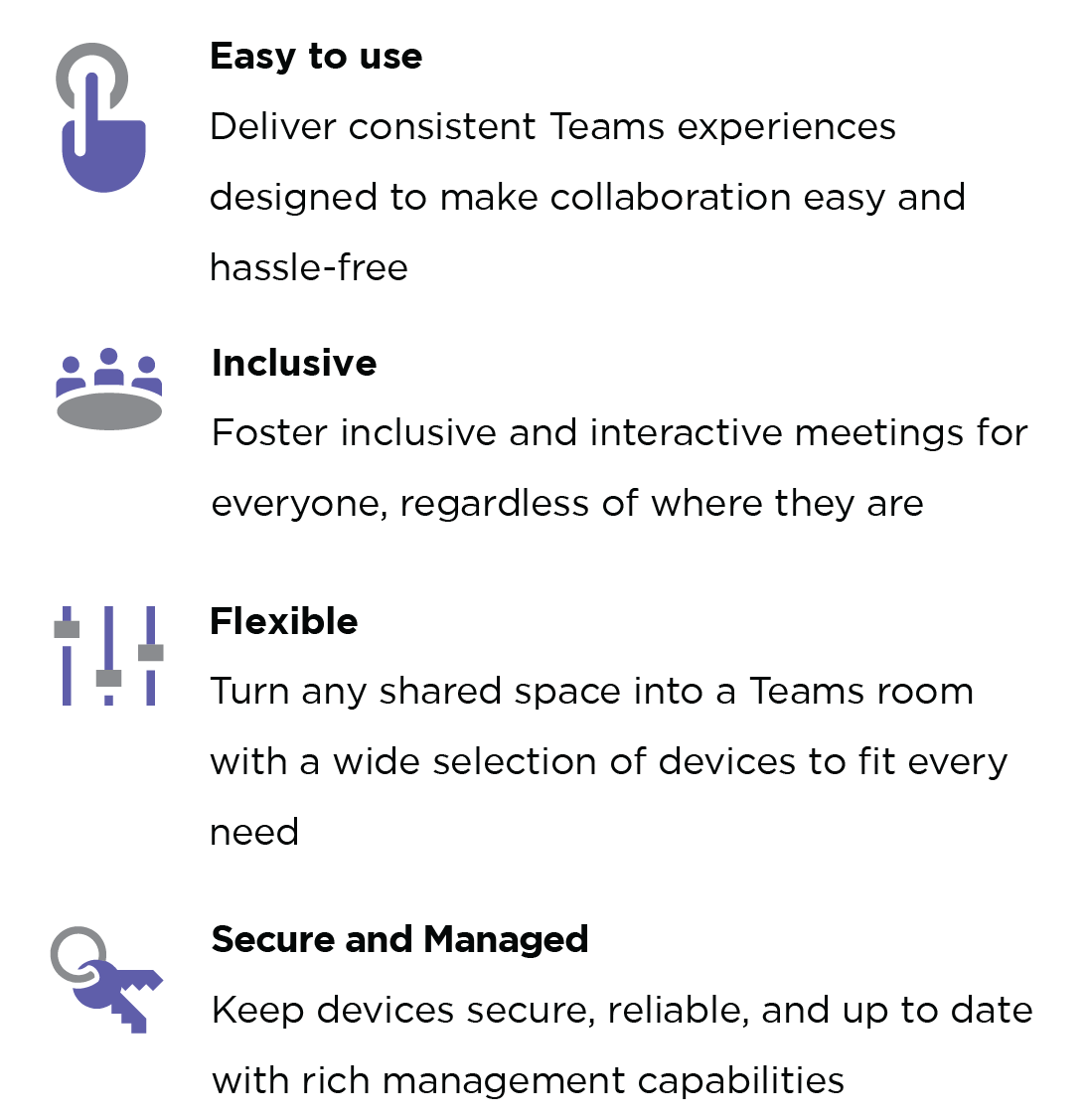 Want to learn more?
Reach out to Karen Burton to find out how Microsoft Teams Rooms Solutions from ScanSource can make your business more efficient.
We can also help you source your Microsoft Teams Rooms license.
Email us
today!
Find certified Microsoft Teams Rooms devices through ScanSource from these trusted suppliers: